• Let the article reading begin! •
If you follow me on Instagram then you've probably seen photos of Gerty ( my sewing machine) and many cups of coffee. These two are essential to my creative process and to operating heavy machinery. Is a sewing machine considered heavy machinery? I always picture a tractor but nonetheless, you don't want to sew through your finger. I've done that once and it was not fun.
Being self-employed doesn't mean I can just lounge around and expect money to climb into my pocket. I do have a schedule and tasks to follow. There is some lounging involved and also a variety of comfy clothes but regardless I have to make something to sell something. Therefore, coffee is an essential part to getting the wheels in motion. I've always considered myself a morning person but coffee in the morning just helps structure the day. Coffee, shower, work. Without it I'd be twirling, forever twirling!
Gerty, for those new to Sour, is my Style-O-Matic Singer sewing machine and luckily she needs no coffee to get going. She was given to me by my late grand-mother and is the first sewing machine I ever used. First and best! If you are considering buying a sewing machine, get one with metal parts. These new ones will break in 1 year as I learned many times. Gerty was born in the 1960s and has been repaired 3 times in her life. I do not go easy on my machines so this proves she is a tough broad.
- Kasey
Working with reused & Recycled
I'm fairly certain that my choice to use recycled materials, whether it be fabric or buttons or zippers, stems from those moments spent with my beloved grand-mother. For one, it's economical to buy secondhand materials and also environmentally friendly. Mostly, I love to work with odd prints and color combos! You can't necessarily find those at your big fabric stores.

Using recycled and reused fabrics in my bags can be challenging. You can't always find the colors you want or type of fabrics that work best. You basically get what you get and hope people are into it. Sometimes, on the rare occasion, you hit the mother load of fabrics and yell JACKPOT!

- Kasey
This fascination with taking something that's been rejected or discarded and then making something new from it started at a very young age.

As a young girl, I was babysat by my grand-mother when my parents were at work. My grand-mother was a crafty woman who taught me how to sew and knit. She encouraged that part of myself and kept me a drawer at the bottom of a cabinet. It was all mine and no one else could touch it. This drawer was filled with scrap pieces of fabric and most importantly, masking tape. Why masking tape? My grand-mother wouldn't let me use needles until I was older. Mostly because I wasn't responsible with them and grand-pa got a few in his foot walking over the shag rug in the living room. I remember making a doll stuffed with fabric and wrapped in a thick layer of masking tape. A thing of beauty! A masterpiece! Soon enough, I was no longer allowed to have that because I used so much masking tape. Apparently these things cost money! Something I didn't really think about as a kid.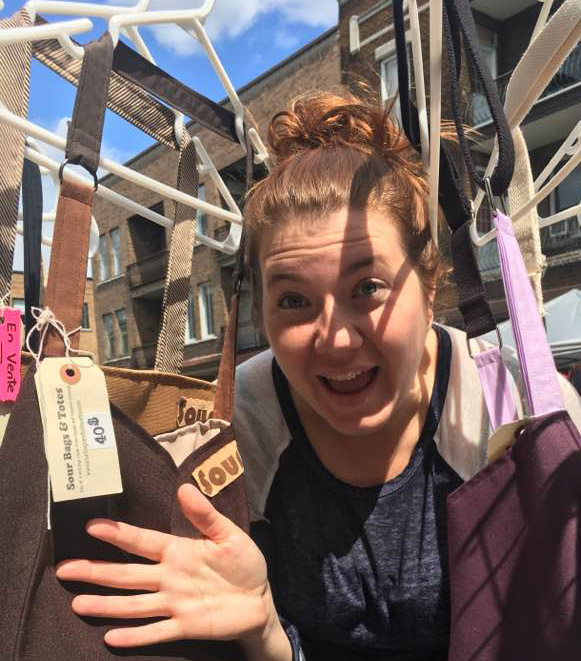 So you want to apply to craft markets? Can't decide which is best? Here are a few guidelines to follow based on my experience with craft markets or events. For the most part, I gained this knowledge through many failed events. It's crushing to attend an event with high hopes only to leave having made no money. People browse your table but don't buy anything. They may even compliment your work. My favorite is that they don't even stop at your table. That may have something to do with the persons taste or your table setup. Let's save that for another article. What I'd like to discuss is picking events or markets that suit your business.

Location:

Whether you drive or take public transportation. Travelling to an event needs to be included in your cost. If the event is too far or out of the way, I generally don't apply. I have applied to a few that were far to travel but these events offered something special or a lower table cost which I'll get to later in this article. Just remember that your gas and bus fare count against your profits for the day (s) of your event. Also, if the location is out of the way and customers can't reach you then that also affects your profits.

Amount of visitors:

I always investigate events that approach me or ones I'm interested in before applying. Are they established? Is this their 1st year hosting a market? If this is their 2nd time hosting a market, then you can always check out how their last event went. You can also check with Facebook groups dedicated to artisans and ask around. If this event can't drive people into their market, then you won't be able to pay for your table. The event should be advertising on the web, television and radio. They need to get the word out. Expecting their vendors to drive all the business is a bit silly.

Cost of your space:

This is what I look at most, cost! How much will it cost me to set up at this event? Is the cost of the space worth the event? If this is an established event, like an Etsy event, the table costs are higher because more goes into the planning than smaller events. This doesn't guarantee you'll sell enough to cover the cost of your event though. They won't be selling your products for you. They are just selling you the opportunity for you to sell your products. This is why investigating the events, seeing who attends and how much it'll cost you is very important. Smaller events can be good if they can draw in the right crowd. Sometimes they are more lenient with table costs if the event wasn't a hit. Make sure the cost of the space is also in your budget. Don't bankrupt yourself and let everything ride on one event. That's a gamble you don't want to take.

Target Market:

This is probably one thing I struggle with a lot and maybe most of you do too. Who is your target market? You can't say everyone! It's a lie! There's one type of person that buys your products and you need to sell specifically to them. When people aren't your target market, they won't even stop to look at your products. Figure out who buys your things and how you can better market to them. Set up your table to appeal to them. If your event is located in an area that appeals to new moms and you sell baby items, then you should do well. In my experience, new moms or moms to be do not buy tote bags. Price point is also key! If you are attending an event that's a sidewalk sale, expect a few old ladies in electric scooters to make bugged eyed shocked looks at your prices. They are not your target market. For sidewalk sales, it's always good to have a couple smaller price point items. People are looking for bargains at these events. Those who appreciate handmade goods want to support you but they may not have the budget for pricier items. That's why having lower price point items comes in handy. Also, a smile is much more inviting then a frown. Customers don't approach a grumpy Gus!

Organizers:

As I mentioned before, advertising and marketing are important for events to draw customers in. Organizers should also be creating a fun environment for the vendors. You don't want a scornful vendor on your hands, we all talk to each other! If an organizer sets up the space but there's no atmosphere, generally this doesn't appeal to potential customers and makes vendors unhappy. You want to choose a market that will be fun, one that the time will fly by and give you opportunities to network with other vendors. Good music is key! Perhaps not blasting, vendors need to talk a lot during events and screaming over your crochet mittens is not becoming. Having food and coffee on hand is also essential. Customers will take their time if they can snack and slow down the pace of the crowd. If the organizers chose a venue that is large enough for all it's vendors in an accessible location then all should go pretty okay. For the most part, a good organizer wants their event and vendors to be successful.


I hope some of these tips are helpful to you when choosing your next event. Applying to an event doesn't necessarily mean they'll accept you. Be ready for some rejection. Some events cater to a particular kind of look or individual and your products may not meet their standards. That doesn't mean they aren't any good though. Good luck out there! Stay strong!

-Kasey


Secret coupon code: 81ruos ( it's backwards! Put it in the right order to save 20% on your purchase. Coupon is good until Friday January 19th 2018 in my Etsy shop! www.sourbagsandtotes.etsy.com )

 
If you are an artisan or artist, then maybe you've recieved those looks or comments from family and friends. The kind that imply you don't actually do any work or that your business isn't a real job. Yet you feel you work harder than most, make less money and don't really ever clock out. There may also be looks because you are on your phone a lot and yet that's also you at work. In this article, I'd like to address this false perception and point out how much goes into this "non-job".

I find it really disheartening when people, more often friends and family, assume I just lounge around at home all day watching Netflix and maybe work on sewing a bag. That my time is flexible and that I'm not busy. Unless magical fairies are the ones making the bags, I'm not sure where they assume I'm not busy. I have to motivate myself everyday to work. I do create my own schedule but I can't just constantly be taking breaks. I don't get an hourly wage or lunch break and if I don't create something that will sell, I don't get paid. I think people believe that a "real" job is something you go to, spend 8 hours there and then go home. I don't get time off. In fact, I'm working right now!

I work when I have enough light to see what I'm sewing and the rest of the time is spent managing social media, planning new bags and marketing my business. I do this everyday. Perhaps I make it look easy but it takes a lot of creative energy to keep people interested in what I do on top of navigating algorithms designed to put my small business on everyone's back burner.

I work alone. I don't have a team. I sew. I advertise. I create content. I sell. I update. I photograph. I build. I wear all the hats.

Please do not assume that I don't work. This is not my hobby. I enjoy some of what I do just like anyone else with a job. It's a job. I work at it. Yes, I'm passionate but I'm mostly perseverant.

-Kasey

 
Sour's Top 5 shows that aren't too distracting!
They say whistle while you work, well I watch Netflix while I work and more specifically TV shows. The shows can't be too distracting or too dull. I need a very specific type of TV show and I'm going to share with you some of my favorites that I find are the best to watch while working.

Now since I sew, my attention can't be locked on to the TV screen. That's how you sew through your finger! The shows I most enjoy are the ones you can follow along with without looking at the screen, contains more than 1 season and also has a decent amount of music in it. Ominous background music just makes me wonder what's going on and then my production line slows down. I found DARK to be one of those shows that needs my full attention and therefore is not very good to have on while working. I'm still not sure what happened in that show! Also, a show like Shameless can be very distracting. If you've seen it than you know why.

First on my TO WATCH WHILE WORKING list is:

1. Supernatural
For those who know me well this is not a surprise. I've watched the entire series (12 seasons on Netflix so far) about 8 times. I may have lost count. Supernatural isn't for everyone but I enjoy the format and content. It has humor, sometimes emotional scenes and has great music in the earlier episodes if you are into Classic Rock or Hard Rock. I can listen to the episodes without having to look up every 2 seconds and now that I've seen it so often it's become even better to watch while working. It's familiar and comfortable. When nothing else is on or I'm feeling creatively stumped, I turn on Supernatural. Sam and Dean to the rescue!

2. Suits
There's something about their theme song that always makes me sing along to even though I do not know what they are saying. What are the words to the Suits theme song? Suits is an intriguing enough show that you can follow along with while staring at a sewing machine. Most of it is just dialogue and lawyering anyways. It also has great music occasionally and a minimal amount of distracting sex scenes.

3. White Collar

I've watched this show a few times over as well. Perhaps not as much as Supernatural. I really enjoy cop shows and this one is fun and silly at times. Having been a fan of Saved By The Bell as a kid, seeing Kelly Kapowski in a different role is great! The CG in this show is pretty comical though. If ever they are in a different part of the world or even a fancy restaurant with an outdoor view, it looks so fake. Makes me laugh every time! Overall, it's a good show with fashion, art theft and lots of wine.

4. Agatha Christie's Poirot

This show is a long running series of mystery solving. I love Agatha Christie books and I don't read often but I have read many of hers. This show, based on her novels, has an incredibly 80s pastel and geometric shaped opening sequence with some sweet sax playing in the background. I enjoy a good mystery show and this one is up there with Murder She Wrote ( we all know Jessica Fletcher killed them all). Cheesy at times but very entertaining. Great to have on in the background and the mustache is only a minor distraction.

5. Jane the Virgin

I know! It's totally different from all the other shows and sometimes I need to take a break from my regular shows. I was actually surprised by how fun this show is. At first I didn't like it but after a while and keeping in mind it's making fun of soap operas (telenovelas), it grew on me. It's a silly show with lots of drama and evil twins. It doesn't have as much music as some of the other ones but the ridiculousness of their storylines makes up for it. This is also not a show everyone will enjoy but once and a while it's nice to break away.

I've only listed 5 shows here because I'd be here for weeks writing out all the shows I've binge watched while working. I wanted to give you a taste of what I enjoy watching. I've also taken this time with Netflix to watch shows I never got to see as a kid. Like Angel, Gilmore Girls and Charmed. My TV antenna couldn't pick up those channels. That's right kids! ANTENNA! Aww 90s TV! It was mostly nipples anyways. If you don't get the reference, may I suggest you watch Charmed or even Friends. I'm sure I'll think of more awesome shows to work to after I post this. There's just so many! I also have a list of shows I'll never watch but I'll save that for another day.

-Kasey
In all honesty, I'm writing about creative blocks because I did not know what to write for my next article. So why not write about the thing that happens to a lot of creative people. Creative blocks are the worst. The motivation is there and you're all geared up to have a full productive day but you just don't know what to make. It's a frustrating feeling. How do you get out from under that mental block? The following are a few tricks that work for me.

1. Ignore the block:
Sometimes powering through and making something that you're not totally happy with will spark a better idea. Then there's always the frustration of starting all over but you're generally happier with the end result the second time.

2. Listen to music
I do watch a lot of TV when I create and it generally helps me focus. (see my previous article on shows that aren't too distracting to watch) On occasion, TV or Netflix just isn't getting me in the right frame of mind to create but music does or at least shuts my brain down long enough for it to reboot with some ideas.

3. Leaving your creative space
Going out for a short walk or running an errand can clear your mind long enough to get past the creative block. Sometimes visiting places where I pick up supplies can spark some ideas. Then I get home, have a nice cup of coffee and get to work!

4. Pinterest!
WE ALL USE IT! Everything creative is just a click away. For me, looking at street fashions and bag designs inspires me to create my own version in my own style. Also, looking at styles that influence me like grunge or bohemian styles. Creating a board on Pinterest to hold what inspires you could also save you some time when you get your next creative block.

5. Relax
We all get creative blocks. Don't freak out if you get stuck in one. Find what works for you and go with that. Take a deep breath and just know you are not alone. Take time for yourself and recharge your batteries. Sometimes the solution is as easy as making a cup of tea and sitting with your thoughts for a minute. Nowadays, we are all glued to our phones but maybe try staring out the window once and a while to disconnect a little.

Hope these tips help if ever you are stuck in a block. This certainly helped me get over mine.

-Kasey
Pairing colors & Fabrics
I've been told once or twice that they love the colors and fabrics I pair up on my bags and there really isn't any trick on how I do this.
My process for creating a bag is the following, I dump mounds of fabric from my bins and I just start pulling out from the heap different colors and textures to see if they match up. I may just have an eye for it. I do love pairing more contrasting colors that I feel is influenced by grunge fashion, something I was heavily into it as a youth in the 1990s. Even though I was really only mirroring my older, cooler sister! So this is why I love to use corduroys, denims and neutral tones with bright colors. The use of bright colors comes from my love for Janis Joplin and the bohemian / hippie fashion of her generation. My eye is always drawn to funky prints and bright colors when I'm hunting for secondhand fabrics.

There are certain colors I'm not keen on using because they just don't pair well with the aesthetic of Sour. One of those colors would be bubblegum pink! Although, I have made pink bags but it is not my favorite. Some people love pink and so I make bags for them!
I try to make a little something for everyone but I feel most inspired when I get to play with colors and textures. There's just an instinct I've developed over the years about which colors and fabrics would work best for a certain style of bags.

Some fabrics just speak to me. "Make me into a shoulder bag" it would whisper and I would whisper back " Okay!" I then take scissors out and start cutting my bag pieces. I don't have set patterns for most of my bags. I just do what the fabric says and that sounds crazier than it is!
"What's that, fabric? Wrap up this article and get to creating some more bags? Well alright then!"

-Kasey
My choice of colors and textures can be a little much for some, occasionally I'll tone it down and make monochrome colored bags. Of course this all depends on the fabrics I currently have in stock.

Black is quite rare to find secondhand and black fabric is what everyone goes bananas for! Like rip their hair out bananas! Okay, maybe they aren't that intense about it but you get my point.
I get asked quite often: Where does the name Sour Bags & Totes come from? How did I come up with it? Or even how to pronounce Sour, but that's just language barriers. Well, the time has come for everyone to know the boring story of how Sour came to be! At least I think it's dull. It's not some inspirational tale of a small town girl dreaming of bigger things. Well it kind of is but not in the fairy tale sort of way.
It all started with a magazine I used to publish back in 2003-2004. After CEGEP (that's College or pre-university for everyone outside of Quebec) I did what anyone not moving onto University would do, I moved back home with my parents. I grew up in the middle of nowhere on a farm and when I got back from CEGEP I began working at a local bakery. While the job was fine and the people were great, I needed a bit more to feed my creative monster. I decided to start self-publishing a magazine. One which I produced with dial up internet and a very low tech Windows Publisher program. I had friends pitch in articles, art or on occasion a comic and I filled in everything else. I think 8 Ball Horoscopes were my favorite. With the help of my good friend Emily ( from Tomorrow Never Knows) , I named it Sour Josephine. That name was inspired by a band named Coheed & Cambria which had a song with the lyrics Sweet Josephine in it ( Devil in Jersey City). I really liked this song but didn't want to copy it so Emily suggested I change the Sweet to Sour. I thought it was very fitting.
In 2005, I moved back to Montreal and eventually got a job at Chapters (a Canadian book store giant) in 2007. Now, for those who are familiar with me, I don't read often but I was great at suggesting self-help novels. After a fascinating week of retail, meeting new and interesting smelling people, I would sew for myself. I began making bags for myself with the sewing machine my grand-mother gave me. I named that sewing machine Gerty! My grand-mother had apparently bought it in the 1960s from a door to door Singer salesman. Best sewing machine I ever owned and I remember my grand-mother saying she regretted giving it to me because she also loved that machine! Okay let's get back on track! So I'm making my own tote bags and taking them to work at Chapters. My manager at the time noticed my handmade bag and encouraged me to open a shop on Etsy. Back then, Etsy wasn't known in Quebec but I took the risk and opened my shop! I named it Sour Bags & Totes, keeping the Sour going even if it wasn't in magazine form anymore. The quality of my bags and sewing weren't perfected at this point and it's crazy to see the evolution of my art.
I've learned so much over the years and this now includes zippers. Something I was very firmly against but now am enjoying. I just needed to find a tutorial my brain could comprehend and the rest is history.
I work on or make bags nearly everyday now. It can be infuriating at times but there's joy with working on something from start to finish and seeing it find a home with a happy customer.

-Kasey
Consignment is a bittersweet sort of thing in my book. I recently took a step back from it and thought it would be an
interesting topic to write about.
What is consignment?
A boutique, in which you have placed your product, takes 50% of your sales. That percentage is the going rate in most places. Sometimes you can negotiate with the boutiques on how much their cut is but rarely do they accept less than 50%.
Sweet part of consignment:
Although, I may come off bitter about consignment there are upsides to making it a part of your business plan. If you have an online business, people can't touch your products. They can feel up their computer screens all they like but that just doesn't convey the softness of your handmade item. People like to touch things. Have you ever been able to go into a clothing store and not touch the clothes? Exactly! So consignment helps in that department and it also reaches clients that may be discovering your products for the first time. It also allows for people in your area to shop your products and not have to pay shipping or wait for the item to ship.
Bitter part of consignment:
Here we go! Brace yourselves! While consignment can be good, it's also taking a huge chunk of your profits. Like I mentioned before, they keep 50% of your sales. You also have no control over how they merchandise or display your items in the store. It's a particular struggle I've seen as a bag lady. A floppy bag hanging from a nail on the wall is not attractive to customers. You can always discuss with the boutique owners how to display your items better but it's up to them whether they will take your suggestions. They may also make the occasional social media post of your item. WOOHOO! Granted, it may be a poorly lit photo but at least someone will see it, right?
Consignment is tricky and it can leave you very frustrated but remember to choose the boutiques you feel work best for your products. If ever it's not working out, communicate politely with the owners or take your items back. Don't burn any bridges, unless completely necessary, because you may still want to shop there! I don't regret my time in consignment. I was able to reach some new customers and make new connections because of it. Networking is important!

-Kasey
 
I've never considered myself to be a seamstress. I'm not trained, I had 1 sewing lesson from a neighbor when I was 12 and that's the extent of my training. The biggest factor is that I don't like patterns and I think a big part of being a seamstress is that you are able to follow a pattern. I'm not comfortable taking in or taking out clothes. It's a risk to leave these things in my hands. Don't trust me with your pantaloons! So how am I able to make such awesome bags without a pattern? Well that's because I do consider myself a sewist. Sewist is a relatively new term that combines "sew" and "artist" into one word. Just like we did with Brangelina! Same thing but not as dumb.
 

I make one of a kind bags for a reason. I feel like every single one is a different canvas. There are other factors that prevent me from doubling a bag such as fabric stock and that I just don't want to! When I set out to make a bag, I look at my fabric and I see what style of bag would look nice in that particular piece. Just as a sculptor would look at a piece of marble and see exactly how it should be sculpted. The fabric speaks to me in a sense. I think we may have covered that in a previous article. I don't keep patterns, the one exception is the saddle bags, I just measure, cut and sew it all together. To me it seems like such a simple task but to others it seems like witchcraft. Although, I'm not twirling pencils with my mind (that's a The Craft reference kids!)

I am making unique bags with personality. Each expresses something different and perhaps that's why some people (who shall not be named) own over 40 of my one of a kind handmade bags.

I'm a sewist. I create one of a kind bags.

-Kasey






Oh hey! Your support would be appreciated on my Patreon page!
https://www.patreon.com/sourbagsandtotes

 
Two ducks walk into a bar...
Well maybe not that kind of humor. It can be challenging at times to stand out from other Instagram or Facebook accounts. How do you get people to connect with your feed? I like to think humor is the key but also being a genuine person and staying true to who you are. All depending how you want your brand portrayed or who your target market may be. I feel people respond better to a no B.S approach. I've always lived by the words of Popeye: "I am what I am and that's all that I am!" (I'm Popeye the Sailor man) Toot! Toot!

So how does one figure out where humor fits in?
I use it in announcements, articles and posts about upcoming events. Basically, whenever I am talking directly to my audience. For example, when I announce I've made a bag I use old timey expressions of joy. GADZOOKS! HUZZAH! And my personal favorite: JINKIES! (Fun fact: I love Scooby Doo!) I want them to smile when they see my post. I want them to connect with it, not just be some forgettable thing that they'll swipe away from. Humor can also mean making a funny face or sharing a funny event in your life that's somewhat pertinent to what you do.

A lot of my articles portray my personality pretty well. For those who know me, you can probably hear my little voice reading this to you right now! And also NOW! I think it's important for your followers or readers to connect with what's being said as well as the person saying it. Everyone loves to laugh, unless you're dead inside.
Constantly posting photos of your work can get dull for followers. You need to switch it up and have a little fun. Show your personality in what you post. Not everything can be knitting or bags or pictures of your cat but when you alternate and add just a pinch of humor, you're reaching out to a whole other dimension of potential buyers. If people like you, connect with you they are more likely to buy from you. Even more likely to support you in the long term and gosh golly that's just good stuff!

This article idea came from me having no idea what to write (this usually happens to me every Wednesday) and as a joke I wrote to talk about farts. Humor helped me write about humor. YAY!

-Kasey
Oh, The Places Your Bags Will Go!
I'm always wondering what kind of crazy shenanigans my bags will be up to once I ship them out to their owners. What kind of look those buyers will have on their face once seeing their new Sour bag in person. Will they be over joyed? Most often they are! Or will they not have read the description thoroughly and be underwhelmed. Which is a fear I have every time someone purchases a bag from me.
For this particular article I wanted to place focus on the people that send me photos of their bags in the wild or some that were spotted in the wild and sent to me! It brings me so much happiness to see one of my bags being used!
Sometimes I'll even get messages about a Sour sighting and I'll ask the person to describe the bag and on occasion it's an older model or a design I know longer make. It's always a shock to me that they are still holding together. You see folks, my sewing skills and the quality of my bags have improved quite a bit over the years. Yet, those old bags are still well loved after all this time! I guess that says something pretty awesome about Sour bags.

-Kasey
In the wilderness, in the dense jungle of humans and man made conditions, bags may not appear as they have in my Etsy shop photos. Some are grungy and well loved others are fresh out of the packaging and I'm okay with either.
If you have any pictures of your Sour bag(s) or of someone else, send them my way! Be sure to be stealthy as not to spook the Sour bag. It's still adapting to life on the outside.

E-mail me your photos!
sourbagsandtotes@gmail.com

From the title of this article you'd assume I follow trends and stay on point with my fashion styles when in reality I think trends are dumb. I feel fashion trends puts everyone in a corner and nobody puts baby in a corner. We end up all having the same color palette, the same style of designs and the Rachel hair-do. I'm not into it.

Fashion hasn't really come up with something unique in centuries. We seem to keep recycling old styles. Bohemian and Hippie are back in! Everything is high waisted and bell bottom.

Fun fact: High waist pants make me look like I have no middle part to my body. My true waist is somewhere between my chin and shoulders. For some they may look nice, but just because stores and magazines are filled with them doesn't mean it'll look good on me. I've been in this body for over 30 years, I know what works and what doesn't. I think we end up wasting money on clothes we'll never wear because we saw it on a show, on someone else, and thought it was cute. Finding your style takes years and you may need to wait for it to cycle back around to clothes that are considered on trend. Which is why shopping secondhand comes in handy. You're not paying as much for clothes that can last the test of time and aren't your horribly assembled, one-time use, Forever 21 clothes. I am guilty of buying clothes from them, but I make sure they won't fall apart after a wash. I'm also getting better at not frivolously spending money on clothes I'll never wear. Is that old age kicking in?
Fast fashion is horrible for us all and they shovel those trends out as fast as they can. Don't depend on them for your style. Create your own and watch what you buy. If you buy from big stores, be sure the item fits and that you'll wear it until it disintegrates off your body. Local purchases are always great. It helps small businesses but it may not always be in your budget. Be sure those pieces are versatile and also fit. You don't want that 150$ dress to sit in your closet reminding you of how eco-friendly you are but also how you wasted 150$. Shop smart…shop…well you know the rest!

- Kasey
So you've been rejected...
Rejection is never easy to swallow or easy to sparrow. Just a little bird humor to get going. Anyhow, rejection is tough. What I'm talking about in this article is mostly rejection from craft shows. So if Todd sent back that note in class and responded "No" to the "Do you like like me?", this isn't the article for you.

Surprise! Even I've been rejected from craft shows! I think most of us have all been through it. It gets easier after a dozen or so but there's always that initial sting. You've put so much work, the best you can do, into your business to get it ready to apply. You send out that application with fingers and toes crossed. Then you start seeing fellow artisans getting accepted and you haven't heard back yet. A sinking feeling starts setting into your gut. BAM! You get the email saying you're just not good enough. Well, at least that's how you see it. It reads a bit differently though. Trust me, I've been pretty upset by some rejection letters and others not that much. I myself have never sent out angry e-mails to the organizers because you DO NOT want to burn those bridges. Unless you plan to never take part in those shows ever and even then, people talk. I've heard of people really laying into the organizers of these events. I feel that just shows their true colors and how unprepared they are to run a small business.
How should you deal with a rejection? Take a deep breath, it's not personal. You can politely e-mail the organizers and ask for feedback. You may not like what they have to say but it'll be constructive criticism. You can take a look at your product photos or online presence because these are taken into consideration when making a decision to have you in their show. I've come a little way on both those categories and could improve even further.

Another way to deal with rejection is to create your own opportunities. After a few rejections, I decided to host my own Pop Up Shop with a few other artisans, some of which I know rarely get the chance to be in big shows like Etsy or Puces Pop (Montreal). It was a lot of work and I had help but it was an experience I mostly enjoyed. If anything it showed me how hard it is to organize these events.

There's no reason to harass organizers if you've been rejected. Show them you can do better by actually doing better and improving your business. Put that anger towards proving to them they made a horrible mistake passing on you. Then when you apply next time, you'll have better odds!

-Kasey

P.S Check out my previous article on how to pick the right event for you!
Click here for that article!
The loneliness of working from home
This isn't a particularly easy subject for me to discuss because I often feel this way since working from home. Before choosing to go full time with Sour, I worked in the public and saw people everyday whether I wanted to or not. Let's just say you meet some very interesting people when working in retail. "Sir, this is probably not the best place to clip your toe nails." True story!

I've been working from home full time now for roughly 3 years and spend about 10 hours alone with me, myself and I per weekday. Apparently, you should interact with people every 6 hours or the loneliness will get you! I honestly should get out and interact with humans more often but then who will make the bags? Will it be you? So yeah, I am kind of between a rock and hard place on this one. Is it perhaps a time management issue or do I need to cut back on time spent sewing? Spending days alone, talking to the TV and getting limited people time has affected my mood. It can deplete my productivity as well which then sends me spiralling into a week of frustration.

 
When weekend rolls around, I'm not motivated to do anything or go anywhere. Which is odd because you'd think I'd be starving to see friends and get out. (Granted, I can be a hermit) Then it gets to the point where friends assume you don't want to hang out. Voila! The loneliness has returned and people stop calling. Of course these feelings of loneliness aren't necessarily things I talk about so some people are in the dark of how completely down I really can be.

I spent weeks trying to find a topic to write about for my next article and nothing really struck a chord with me but this particular subject needed a little light. I'm all alone at my job. The days can be frustrating, lonely and this is something I struggle to correct. The balance is off and trying to find that center again is difficult but I'm trying and working towards a better work environment. Thank you for putting up with my little rant or vent or what have you. It helps.

-Kasey
Oh hello! It's been a while! Well I finally have something to write about that I hope is worth reading. You must all know by now that I work with recycled / reused fabrics and because of this I don't always get the best secondhand quality. I do my best to pick the best secondhand fabrics for my bags but sometimes a few slip through the cracks. In this case, a few denims that tend to bleed when they are wet. Let me set the scene!

Picture it! Montreal last week! I had just finished making a beautiful black denim backpack only to realize that the dye in the denim bleeds when it's wet and could rub off onto light colored clothes. This would be bad if you got caught in the rain or washed the bag (this particular backpack had black and white pinstripe accent panel which was no longer a bright white after a wash). I tried the whole washing it in vinegar thing but I didn't feel right selling it to someone. Even after the vinegar bath, it still bled. I scrapped the whole bag, salvaged what I could of the hardware and straps.



I then thought about the red denim I had used in a few bags and tested to see if that also bled. It did and I immediately added a warning in their listings. The red didn't rub off as badly but I would hate to get a message from a customer saying that the fabric ruined their clothes. I want to remain transparent in what I use in my bags. I doubt I'll be using either of those denims again but lesson learned to always check before I put time and money into making a bag.


It may scare away a few sales for those bags but I would rather play it safe than be sorry I hadn't mentioned anything. Quality is at the top of my priorities and encourage people to ask questions or read through the listings before purchasing a bag. I'm an honest person and I do not want to sell you a product I wouldn't use.


As the kids say, I like to keep it real!

-Kasey
How do you solve a problem like Etsy fees?
Recently, Etsy decided to raise its fees from 3.5% to 5% and this now also applies to your shipping costs. It's a real jerk move. But one must remember that they need to make money too, just way more than us little fellas.

Anyhow, jerks are gonna jerk! Here's my issue, do I leave Etsy and upgrade my Squarespace site to be a shop? I don't want to be impulsive on this. I'm kind of prone to make quick decisions and then I am left with dealing with my mistakes. Yes, it's all a learning process but this is something that's close to me. Sour is my baby! 11 years I've been on Etsy and only in the past 3-4 years has it been full time. I don't want to lose what I've built already.

The downside to expanding my Squarespace is that I will have to drive all traffic to the shop myself. That's pretty much what I do with Etsy anyways now because the site is oversaturated with makers and we are all yelling "Hey! Look over here at this stuff!" Some yell louder than others and have money to throw around.
 
The downside to staying with Etsy, they are building something I don't like. No coincidence that after they announced the raise in fees that their stocks sky rocketed. They are buttering Etsy up for what I can only assume is going to be a buyout. Perhaps become another eBay or Amazon.

Upsides? Sure, there must be some in there somewhere. Squarespace is a yearly fee with great tools and customer service. I can design it the way I like and won't have to pay fees for existing other than the obvious transaction fees that PayPal and Squarespace collect. Although, there wouldn't be 0.20$ fee taken every time I add an item to my shop. As for Etsy, upsides are that I'm already established there. It's comfortable and I know my way around. But for the most part I don't think Sour necessarily needs it to sell.

So many questions and discussions to be had on the future of Sour and where it may go.

Stay tuned!

-Kasey
The Return of a part-time bag maker
It wasn't an easy decision to make, but when life forces your hand and you take a hard look at the lack of dollars in your bank account you just have to give in. This is something I've recently had to do. I took a long break from sewing to re-assess things in my life because things were changing. My husband and I bought a house and I could no longer coast on my good looks alone. I had to start pitching in and bag sales weren't enough to pay the bills. Therefore, a tough choice was made. Sour would now be a part-time when I had free time kind of business. You've probably noticed a lack of production or online presence here and there. I've certainly neglected to write a new article in a while. So here's what's new and also what to expect from Sour.
Gerty and I will on occasion be making new bags and this means you'll be lucky to get 2 in the same week. I'll do what I can to streamline production and have bags ready to sew on days off. Although, no promises can really be made. I'll more than likely be posting less but how many photos of morning coffees do you need? Posting less may actually help me be seen more often due to our wacky algorithms. So that could be a positive thing. Another thing, I'm not likely to participate in big markets like the Etsy events. This being because there's just no time or money anymore to prepare for them. You'll just have to shop the old fashion way, online!

I'm never going to stop making Sour bags, so do not worry! And for the time being I won't be leaving Etsy, also because of lack of time and money. Etsy is the lazy way of selling bags compared to monitoring a website and all that jazz. So there's something that won't be changing!
In conclusion, I have a job that pays an hourly minimum wage salary and I'm okay with that. I'm happy to have a somewhat stable income and the work is relatively painless. I do miss having my own schedule and taking breaks whenever I please, but the security that comes with having a paycheck is relieving me of a stress that had been building over the years as a full time Sour employee. Keep checking in, follow me on all the things. I'm still here and I'm still making awesome bags!

-Kasey
I tried and feel I have failed to balance my business with a side job. It was to be a side job but the hours were so erratic and offered no consistency. This made it difficult to plan anything. Everyone kept telling me " Well that's retail!" and all I kept asking myself was did it really need to be like that at all? Either way, it didn't work out for me so now I'm back to bags. My comfort zone! It's what I enjoy but it'll take twenty times the hustle to produce a paycheck like I saw with a day job ( which also had several overnights. Overnights are great if you love sleep deprivation!)

While I wait to find a side job I will enjoy enough and one that can offer a consistent schedule, I'll be doing a lot more sewing. It's hard work wearing all the hats in a business and most people will never know or understand exactly how much work actually goes into it.
Having to be visible on social media so you can network and grow is in itself a full time job of staring at your phone. Producing fast enough so that people don't lose interest is tough too. So why bother? Why not just dump the business and get a full time job? I can't, this is where my heart is and shall remain. I understand that I'll need another job at some point, life doesn't just hand paychecks out, but until then I may as well do the thing I enjoy.

-Kasey
Side note: Know your value and who you are. Don't let others compromise it or have you doubt it.
As you may have noticed, I have left Etsy. ♫ " Goodbye Etsy page, though I never really knew you at all..." ♫ I spent 12 years building my Etsy shop and in the past years with fee increases as well as newer fees, I felt it was time to step away. Was it the best choice? I don't know. I do know that I wasn't keen on them taking a fee on my shipping costs ( they don't take any part in helping me ship items) and forcing my Paypal account to join Etsy payments ( a clear attempt to collect fees on that).
I'm a small business, I don't have an endless supply of cash for these fees to not affect me. So after leaving my retail job, I felt I was on a roll for change and decided to open a shop on my website. The struggle with having this shoppable website, instead of an Etsy shop, is driving traffic to it. I don't have the same visibility anymore. I find that a bit difficult right now but it's something I'm going to work on. I plan to give this a real shot. I mean, I'm already saving 20 cents every time I post a new bag on the website instead of Etsy. I'll be rich in no time! Right? Right? Maybe not but every little bit counts! Wish me luck!

- Kasey